Payment Method Notification
Dear Customer,

Thank you for your continued patronage.

Starting 7/12/2020, credit cards and debit cards can be used on Premium Bandai USA.
(Note: Restrictions may apply depending on the product and/or selling company.)

・Payment Options Before Change: PayPal Only
・Payment Options After Change: PayPal, Credit/Debit Card (Visa, MasterCard, American Express, Discover, Diners, and JCB)

*Note: Only credit cards and Debit Cards issued in the US are valid.
*Credit card and debit card payments can only be used on products sold by "BANDAI AMERICA INCORPORATED" or "BANDAI NAMCO Collectibles LLC dba BLUEFIN". Credit card and debit card payments cannot be used for products whose sales companies are "BANDAI SPIRITS CO., LTD." or "BANDAI CO., LTD."--so please continue to use PayPal payments for these items. For information on which item is sold by which sales company, please check the item's product page.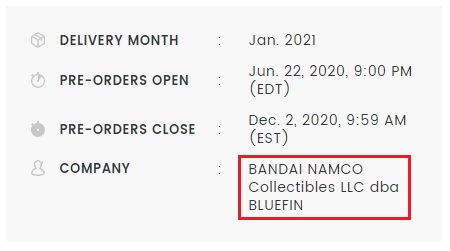 Thank you again for shopping with us,

PREMIUM BANDAI USA