This offer is no longer valid
Thank you to everyone who participated
PRIZES
Get two half-decks, each featuring one of three possible leader cards!*
3,000 entrants will win!
*Leader cards will be chosen randomly.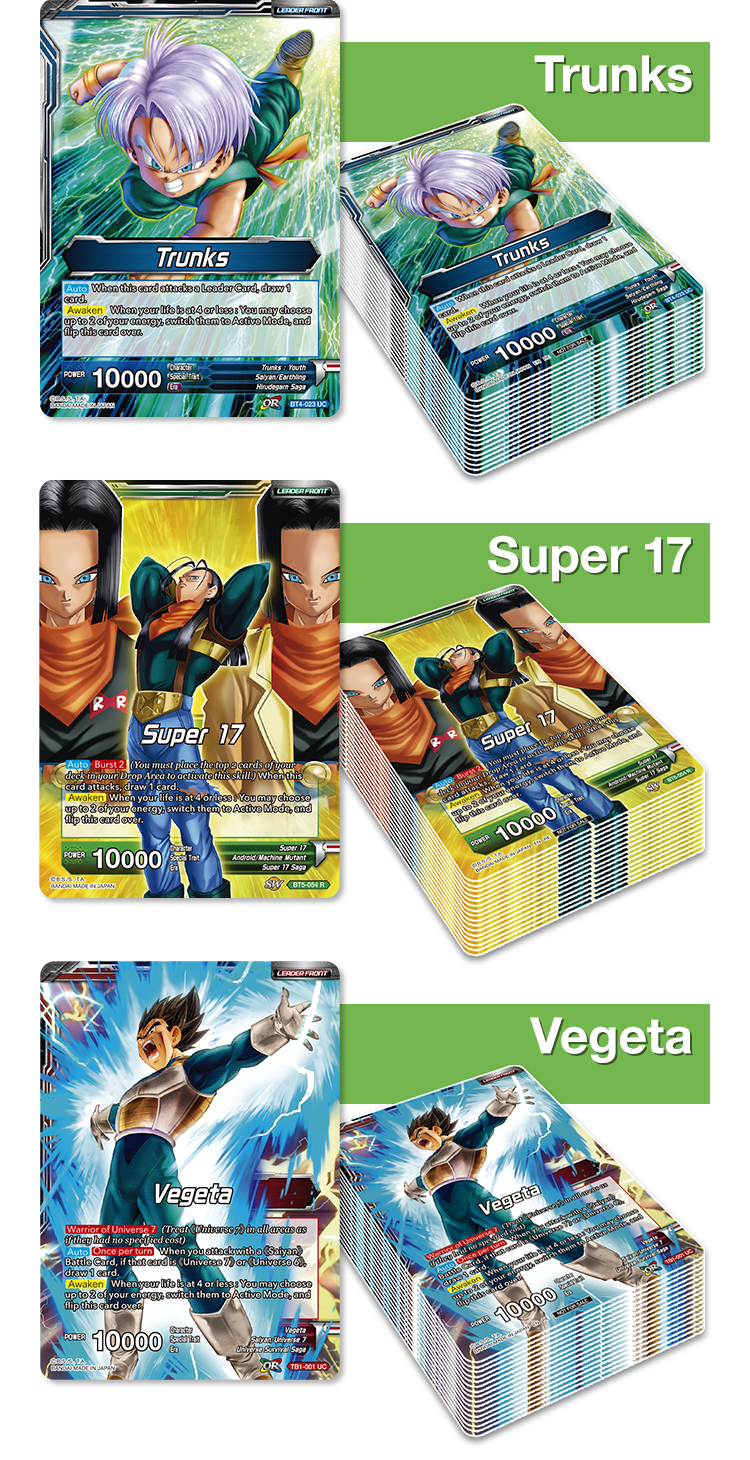 Learn the rules and challenge your friends and family!
・Sweepstakes Period: From 8:00 PM (EDT) on July 20, 2021 to 11:59 PM (EDT) on July 31, 2021
・Winners will receive two half-decks (52 cards in total), each including one of three potential leader cards.
・Cards will be chosen at random. Two or more of the same card may be included.
・Half-Decks Include: 1 leader card, 25 other cards chosen from 14 or 15 possible types (depending on the leader card), 1 play mat, and 1 instruction manual.
・All included cards have been previously released.
・Prize distribution are not limited to this sweepstakes and identical half-decks will be distributed in card shops and similar stores this coming October. Please note that as the prizes for this sweepstakes are scheduled to be delivered in November of 2021, the in-store version of these prizes will be given out first.
・Winners will not be notified prior to receiving their prize.
DETAILS
Register to become a Premium Bandai member before July 30, 2021, 11:59 PM (EDT)

Click "Enter the Sweepstakes" button below to enter.

Winners will be sent their respective prizes.
*Winners will not be notified prior to receiving their prize.
EXPIRED
FAQ
What are the requirements to participate?
* You must live in one of the fifty states of the USA or the District of Columbia. (Your registered address for your Premium Bandai account must be in the USA.)
* You must be 18 years old or older.
* You must have a Premium Bandai membership. Registration is free at: https://p-bandai.com/us/register
Only those who meet the above conditions can participate.
Only those who are registered at Premium Bandai can participate.
Is there a fee to participate?
No. Anyone can apply at no cost by registering for a free Premium Bandai account and then clicking the sweepstake entry button.
How many times can I enter?
You may only enter one time per person per sweepstakes.
When will the winners be announced?
Winners will not be notified prior to being sent their prize.
How will I be notified if I win?
Delivery of your prize at the address you have registered with Premium Bandai will serve as your notification of winning.
When will the prizes be sent?
Shipping will begin in November of 2021.
Where will the prizes be shipped to?
Prizes will be delivered to the address registered in your Premium Bandai User Information. If you want to change the address where you wish to receive your prize, please change your registered address in the User Information Settings section of My Page by July 31, 2021, 11:59 PM.
Please note we ship only to the United States, excluding US territories, possession, and P.O Boxes/APO/FPO/DPO.
*We will not ship the prize to hotels, courier service providers, or delivery lockers.
Can prizes be shipped to Hawaii, Alaska, or Puerto Rico?
Prizes can be shipped to Hawaii and Alaska but we are sorry to say they cannot be shipped to Puerto Rico.
Do I have to pay shipping for my prize if I win?
No, you do not.
Can I receive cash instead of a prize?
No, you cannot. There are no alternatives to the offered prize but Sponsor reserves the right, in its sole discretion, to substitute prize (or portion thereof) with one of comparable or greater value.
How will my personal information be used?
Please refer to Premium Bandai's Privacy Policy for information about the handling of personal information.
Who do I contact if I have additional questions about the individual cards or how to play the DRAGON BALL SUPER CARD GAME?
Please contact the Carddass Club for more information about the cards or playing the game.
If you have any other questions, please contact our customer service.
Terms and Condition
NO PURCHASE NECESSARY TO ENTER OR WIN. A PURCHASE DOES NOT IMPROVE YOUR CHANCES OF WINNING.

Sweepstakes may only be entered in or from the 50 United States and the District of Columbia and entries originating from any other jurisdiction are not eligible for entry. This Sweepstakes is governed exclusively by the laws of the United States. You are not authorized to participate in the Sweepstakes if you are not located within the 50 United States or the District of Columbia.



The BANDAI CARD SHOP Trading Card Came Sweepstakes (DRAGON BALL super card game / DIGIMON card game) (the "Sweepstakes") starts at 8:00 PM Eastern Time ("ET") on July 20, 2021 and ends at 11:59 PM ET on July 31, 2021 ("Sweepstakes Period"). Entries not received within the Sweepstakes Period will be void. No purchase necessary to enter or win.

ELIGIBILITY: Open only to legal residents of the fifty (50) United States and the District of Columbia, who are 18 years of age or older as of entry date and who are a registered member of Premium Bandai. Membership at Premium Bandai is free and you can register at:
https://p-bandai.com/us/register. Employees, officers and directors, independent contractors and temporary employees of BANDAI SPIRITS CO., LTD. ("Sponsor"), Bandai Namco Holdings Inc., their respective parent companies, subsidiaries, affiliates, promotion and advertising agencies, and members of their immediate family (spouse and parent, children and siblings and their respective spouses, regardless of where they reside) and persons living in the same household, whether or not related, of such employees, are not eligible to enter or win this Sweepstakes. Void where prohibited by law. Sweepstakes is subject to all applicable federal, state and local laws.

HOW TO ENTER: During the Sweepstakes Period, visit https://p-bandai.com/us/cont/campaign/dragonball-cp04 and follow the directions to create a free Premium Bandai membership account, or log-in to your Premium Bandai membership account. Then, click on the "Enter the Sweepstakes" button to receive one (1) entry in the Sweepstakes random drawing. All entries must be received by 11:59 PM ET on July 31, 2021 to be eligible. Entrants that have opted-in may opt-out of any further communications at any time by following the opt-out instructions provided in the applicable communication.

Limit of one (1) entry per person using only one (1) Premium Bandai membership account throughout the Sweepstakes Period. You may only use one (1) Premium Bandai membership account to enter the Sweepstakes. Entries received from any person or Premium Bandai membership account in excess of the stated limitation will be void. Any attempt by any entrant to obtain more than the stated number of entries by using multiple/different email addresses, identities, registrations and logins, or any other methods will void that entrant's entries and that entrant may be disqualified. Use of any automated system to participate is prohibited and will result in disqualification.

RANDOM DRAWING: Thirty thousand (3,000) potential winners will be selected in a random drawing held on or about August 1, 2021 from all eligible entries received throughout the Sweepstakes Period by an independent agency. Odds of winning depend on the number of eligible entries received throughout the Sweepstakes Period. No inquiries related to the drawing will be accepted. Sponsor's decisions as to the administration and operation of the Sweepstakes and the selection of the potential winners are final and binding in all matters related to the Sweepstakes.

WINNER NOTIFICATION: Winners will not be notified prior to being sent their prize.

PRIZES (3000): Each of the 3,000 winners will receive two half-decks (52 cards in total), each including one of three potential leader cards: (1) Trunks half-deck ($0.78 (reference price) (2) Super 17 half-deck ($0.78 (reference price) (3) Vegeta half-deck ($0.78 (reference price). Approximate Retail Value ("ARV") of two prize package: $1.57. The total ARV of all prize packages awarded: $4,710.‬‬‬

SHIPMENT OF PRIZES: Prizes will be shipped to the mailing address saved on the winner's Premium Bandai membership account. Shipments will begin in March. Prizes to winners will be void if a winner is unable to receive the prize shipment within a reasonable period of time.

PRIZE CONDITIONS: Prizes are non-assignable and nontransferable and cannot be redeemed for cash. Prizes are awarded "as is" with no warranty or guarantee, either expressed or implied. Winners may not substitute the prize, but Sponsor reserves the right, in its sole discretion, to substitute prize (or portion thereof) with one of comparable or greater value. All prize details are at Sponsor's sole discretion. All federal, state and local taxes, expenses and costs associated with prize acceptance and use not expressly stated in the package description above as being provided are the sole responsibility of the winners.

GENERAL CONDITIONS: By participating, each entrant agrees: (a) to abide by these Official Rules and decisions of Sponsor and judges, which shall be final and binding in all respects relating to this Sweepstakes; (b) to release, discharge and hold harmless Sponsor and Bandai Namco Holdings Inc., their respective parent companies, affiliates, subsidiaries, and advertising and promotion agencies, and the respective officers, directors, shareholders, employees, agents and representatives of the forgoing (collectively, "Released Parties") from any and all injuries, liability, losses and damages of any kind to persons, including death, or property resulting, in whole or in part, directly or indirectly, from entrant's participation in the Sweepstakes or any Sweepstakes related activity or the acceptance, possession, use or misuse of any awarded prize; (c) to be contacted by mail, phone or email and (d) to the use of his/her name, voice, performance, photo, prize information, image and/or likeness for programming, advertising, publicity, trade and promotional purposes in any and all media, now or hereafter known, worldwide and on the Internet, and in perpetuity by Sponsor and its designees, without compensation (unless prohibited by law) or additional consents from entrant or any third party and without prior notice, approval or inspection, and to execute specific consent to such use if asked to do so. By participating, entrant also agrees not to release any publicity or other materials on their own or through someone else regarding their participation in the Sweepstakes without the prior consent of the Sponsor, which either may withhold in its sole discretion. Entrants agree to and understand that each Winner will be made available to the public, including without limitation, posting on the Internet.

PRIVACY: Sponsor will be collecting, processing, and using personal information provided by entrants in accordance with Sponsor's Privacy Policy. Please review Sponsor's Privacy Policy at https://p-bandai.com/us/cont/privacypolicy. By entering the Sweepstakes, you agree to Sponsor's collection and usage of your personal information and acknowledge that you have read and accepted Sponsor's Privacy Policy. Entrant may request access to and/or correction or deletion of entrant's personal information (in connection with the Sweepstakes) at any time by submitting such request to Sponsor's Customer Service as set forth at https://pbandai.zendesk.com/hc/en-us/requests/new. Entrant further acknowledges that it will be necessary for Sponsor to store and process Entrant's personal information for the purpose of administering the Sweepstakes.

MISCELLANEOUS: Released Parties are not responsible for lost, late, incomplete, damaged, inaccurate, stolen, delayed, misdirected, undelivered, or garbled entries or memberships; or for lost, interrupted or unavailable network, server, Internet Service Provider (ISP), website, or other connections, availability or accessibility or miscommunications or failed computer, satellite, telephone or cable transmissions, lines, or technical failure or jumbled, scrambled, delayed, or misdirected transmissions or computer hardware or software malfunctions, failures or difficulties, or other errors or difficulties of any kind whether human, mechanical, electronic, computer, network, typographical, printing or otherwise relating to or in connection with the Sweepstakes, including, without limitation, errors or difficulties which may occur in connection with the administration of the Sweepstakes, the processing of entries or memberships, the announcement of the winners, or in any other Sweepstakes-related materials. Released Parties are also not responsible for any incorrect or inaccurate information, whether caused by site users, tampering, hacking, or by any equipment or programming associated with or utilized in the Sweepstakes. Released Parties are not responsible for injury or damage to any person's computer related to or resulting from participating in this Sweepstakes or downloading materials from or use of the website. Persons who tamper with or abuse any aspect of the Sweepstakes or website, who act in an unsportsmanlike or disruptive manner or who are in violation of these Official Rules, as solely determined by Sponsor, will be disqualified and all associated entries will be void. Should any portion of the Sweepstakes be, in Sponsor's sole opinion, compromised by virus, worms, bugs, non-authorized human intervention or other causes which, in the sole opinion of the Sponsor, corrupt or impair the administration, security, fairness or proper play, or submission of entries, Sponsor reserves the right at its sole discretion to suspend, modify or terminate the Sweepstakes and, if terminated, at its discretion, select the potential winners in a random drawing from all eligible, non-suspect entries received prior to action taken. In the event of a dispute regarding entries received from multiple users having the same email account, the authorized subscriber of the email account at the time of entry will be deemed to be the entrant and must comply with these Official Rules. Authorized account subscriber is the natural person who is assigned to the applicable account by the applicable email service provider. CAUTION: ANY ATTEMPT TO DELIBERATELY DAMAGE THE WEBSITE OR UNDERMINE THE LEGITIMATE OPERATION OF THE CONTEST MAY BE IN VIOLATION OF CRIMINAL AND CIVIL LAWS AND SHOULD SUCH AN ATTEMPT BE MADE, SPONSOR RESERVES THE RIGHT TO SEEK ANY AND ALL REMEDIES AVAILABLE FROM ANY SUCH INDIVIDUAL TO THE FULLEST EXTENT OF THE LAW, INCLUDING CRIMINAL PROSECUTION.

Any attempted form of entry other than as set forth above is prohibited; no automatic, programmed; robotic or similar means of entry are permitted. Released Entities are not responsible for technical, hardware, software, telephone or other communications malfunctions, errors or failures of any kind, lost or unavailable network connections, web site, Internet, or ISP availability, unauthorized human intervention, traffic congestion, incomplete or inaccurate capture of entry information (regardless of cause) or failed, incomplete, garbled, jumbled or delayed computer transmissions which may limit one's ability to enter the Sweepstakes, including any injury or damage to participant's or any other person's computer relating to or resulting from participating in this Sweepstakes or downloading any materials in this Sweepstakes. Sponsor reserves the right, in its sole discretion, to cancel, terminate, modify, extend or suspend this Sweepstakes should (in its sole discretion) virus, bugs, non-authorized human intervention, fraud or other causes beyond its control corrupt or affect the administration, security, fairness or proper conduct of the Sweepstakes. In such case, Sponsor may select the winners from all eligible entries received prior to and/or after (if appropriate) the action taken by Sponsor. Sponsor reserves the right, at its sole discretion, to disqualify any individual it finds, in its sole discretion, to be tampering with the entry process or the operation of the Sweepstakes or web site. Sponsor may prohibit an entrant from participating in the Sweepstakes or winning a prize if, in its sole discretion, it determines that said entrant is attempting to undermine the legitimate operation of the Sweepstakes by cheating, hacking, deception, or other unfair playing practices (including the use of automated quick entry programs) or intending to annoy, abuse, threaten or harass any other entrants or Sponsor representatives.

CAUTION: ANY ATTEMPT BY AN ENTRANT TO DELIBERATELY DAMAGE ANY WEB SITE OR UNDERMINE THE LEGITIMATE OPERATION OF THE SWEEPSTAKES MAY BE A VIOLATION OF CRIMINAL AND CIVIL LAWS AND SHOULD SUCH AN ATTEMPT BE MADE, THE SPONSOR RESERVES THE RIGHT TO SEEK DAMAGES FROM ANY SUCH PERSON TO THE FULLEST EXTENT PERMITTED BY LAW.

LIMITATION OF LIABILITY; DISCLAIMER OF WARRANTIES: IN NO EVENT WILL THE RELEASED ENTITIES BE RESPONSIBLE OR LIABLE FOR ANY DAMAGES OR LOSSES OF ANY KIND, INCLUDING DIRECT, INDIRECT, INCIDENTAL, CONSEQUENTIAL OR PUNITIVE DAMAGES ARISING OUT OF ACCESS TO AND/OR USE OF ANY SITES ASSOCIATED WITH THE SWEEPSTAKES AND/OR THE SWEEPSTAKES ITSELF AND/OR DOWNLOADING FROM AND/OR PRINTING MATERIAL DOWNLOADED FROM ANY SITES ASSOCIATED WITH THE SWEEPSTAKES. WITHOUT LIMITING THE FOREGOING, THIS SWEEPSTAKES AND ALL PRIZES ARE PROVIDED "AS IS" WITHOUT WARRANTY OF ANY KIND, EITHER EXPRESS OR IMPLIED, INCLUDING BUT NOT LIMITED TO, THE IMPLIED WARRANTIES OF MERCHANTABILITY, FITNESS FOR A PARTICULAR PURPOSE OR NON-INFRINGEMENT. SOME JURISDICTIONS MAY NOT ALLOW THE LIMITATIONS OR EXCLUSION OF LIABILITY FOR INCIDENTAL OR CONSEQUENTIAL DAMAGES OR EXCLUSION OF IMPLIED WARRANTIES SO SOME OF THE ABOVE LIMITATIONS OR EXCLUSIONS MAY NOT APPLY TO YOU. CHECK YOUR LOCAL LAWS FOR ANY RESTRICTIONS OR LIMITATIONS REGARDING THESE LIMITATIONS OR EXCLUSIONS.

LIMITATION OF LIABILITY; DISCLAIMER OF WARRANTIES: The parties waive all rights to trial in any action or proceeding instituted in connection with these Official Rules, including, without limitation, the Sweepstakes. Any controversy or claim arising out of or relating to these Official Rules and/or the Sweepstakes shall be settled by binding arbitration in accordance with the commercial arbitration rules of the American Arbitration Association. Any such controversy or claim shall be arbitrated on an individual basis, and shall not be consolidated in any arbitration with any claim or controversy of any other party. The arbitration shall be conducted in the State of California, with venue in Los Angeles County, California.

THIS SWEEPSTAKES AND THESE OFFICIAL RULES AND THE INTERPRETATION OF ITS TERMS SHALL BE GOVERNED BY AND CONSTRUED IN ACCORDANCE WITH THE LAWS OF THE STATE OF CALIFORNIA WITHOUT REGARD TO ITS CONFLICTS OF LAWS RULES. For any matters which are not subject to arbitration as set forth in these Official Rules and/or in connection with the entering of any judgment on an arbitration award in connection with these Official Rules and/or the Contest, the parties irrevocably submit and consent to the exclusive jurisdiction and venue of the state and federal courts located in or closest to Los Angeles County in the State of California. The parties agree not to raise the defense of forum non conveniens.

SPONSOR: BANDAI SPIRITS CO., LTD., G-BASE Tamachi ,5-29-11,Shiba,Minato-ku,Tokyo,108-0014,Japan.